The Novak Leadership Institute is the world's first center dedicated to strategic communication-based leadership education. Our mission is to prepare lifelong leaders to make a positive and meaningful impact in their organizations and communities. 
Our approach is based on David Novak's groundbreaking work in strategic communication and insight-driven leadership that he developed over the course of his 15-year career as co-founder and CEO of Yum! Brands. Novak's understanding of advertising and marketing — getting inside the minds of a target audience to really understand what they are thinking and why — is one of our core tenets and what makes our courses and programs unique. 
We believe that anyone can learn to be an effective leader, and we help learners along their journey by providing practical skills and hands-on experience in the areas of personal leadership development, organizational leadership, entrepreneurship and innovation, and service. As part of the Missouri School of Journalism, we follow "the Missouri Method" of learning by doing and offer the experiences, know-how, and networks to help learners reach their biggest goals. 
How we got started
David Novak credits his success in the business world to his education at the Missouri School of Journalism. While a student, he fell in love with marketing and advertising. After graduation, he worked in a variety of marketing roles before moving into operational leadership at PepsiCo.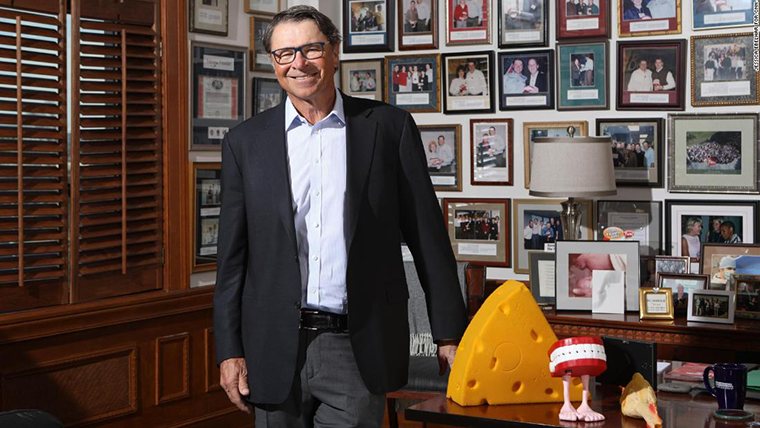 In 1999, David co-founded Yum! Brands, parent company of KFC, Pizza Hut, and Taco Bell, and he used his ability to "think like a marketer" to build a culture of recognition that delivered tremendous business results. During his time as chairman and CEO of Yum! Brands, David grew the company's market capitalization eightfold.
David wanted to share his leadership experience and principles to help develop future generations of leaders, and in 2016, he and his wife, Wendy, gave $21.6 million to establish the Novak Leadership Institute.
Our philosophy
Like David Novak, we believe that to accomplish big goals, you need to take people with you. We develop leaders based on these ideas:
Leaders establish strategic vision and goals that provide inspiration, direction, and conviction to others. 
Leaders ask great questions and are open-minded. They listen and try to learn from others to gain relevant, evidence-based insight. 
Leaders invite ideas from others to gain a wide range of perspectives. They create inclusive, collaborative environments where people feel a sense of belonging and are recognized for their contributions. They extend trust and empower team members. 
Leaders influence others by casting a compelling vision, "marketing the change", and employing principles of effective strategic communication — at both the interpersonal (one-to-one and one-to-few) and mass communication (one-to-many) levels. 
Leaders build long-term trust by displaying character, commitment, and consistency over time. Effective leaders know who they are, what they stand for, and are authentic in living out their values with a high ethical standard. 
Leaders make a collective impact that's greater than the sum of the individual contributing parts. They measure that impact to ensure accountability and effectiveness and adapt to changes in their environments, applying evidence and feedback to optimize their impact. 
Our offerings
The Novak Leadership Institute teaches hands-on courses in personal leadership development, organizational leadership and entrepreneurship drawing upon David Novak's ideas and principles from the field of strategic communication. Along with our courses, we offer students unique networking, mentoring, and service opportunities that they can't get anywhere else.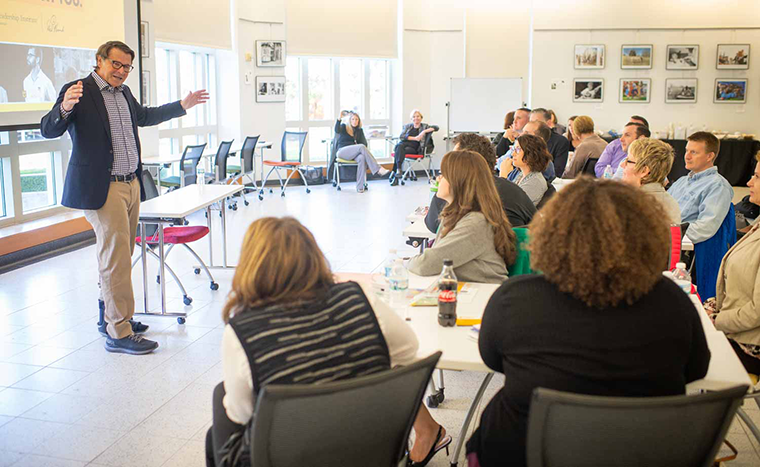 We also offer a variety of education and training for other audiences, including industry professionals, community leaders, and university educators and administrators. 
Learn more about our courses and student programs.
Want to partner with us?
There are many ways you or your organization can support our students and benefit in return. These include hosting visits, collaborating on a custom experiential learning program, serving as a guest speaker, and many more! 
Interested in becoming a partner or supporting our students? Email Brandon Butcher for more information.
Contact us
The Novak Leadership Institute is located at 221 Lee Hills Hall on the University of Missouri campus in Columbia, Missouri. We would love to hear from you. Give us a call at (573) 882-8360 or email novakleadership@missouri.edu.