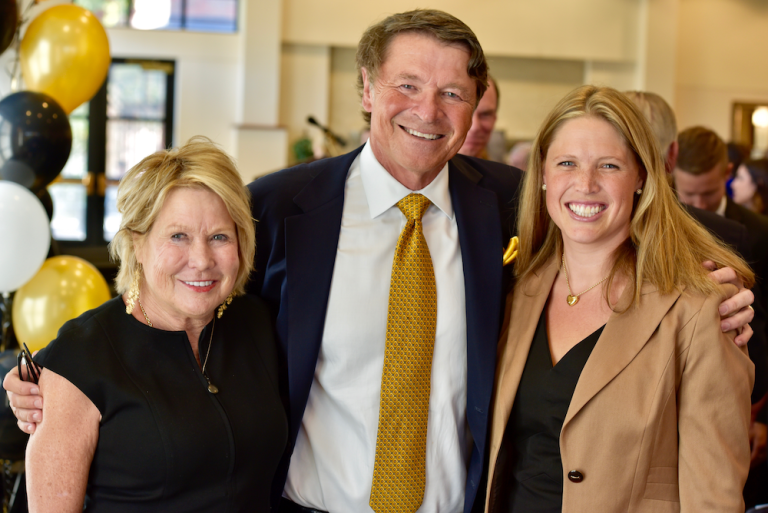 Columbia, Mo. (Sept. 15, 2017) — David and Wendy Novak have committed $21.6 million to the University of Missouri School of Journalism to establish the Novak Leadership Institute. The gift, which was announced today by MU Chancellor Alexander Cartwright, will support the institute named for David Novak, an advertising and marketing executive and renowned expert on leadership, who is the co-founder, retired chairman and CEO of Yum! Brands.
"Wendy, Ashley and I are honored and humbled to invest in leadership education at the School of Journalism," Novak said. "I owe my success to my love of advertising and marketing that was discovered and nurtured here. There is a tremendous void in leadership education in our country and we must teach our students the skills needed to make them great leaders and equip them to work with others to get the very best results. We are confident that the institute we have envisioned will put Mizzou at the forefront of leadership education."
David Novak's vision for the Leadership Institute stems from his people-first approach to leadership education. Over his fifteen years as chairman and CEO of Yum! Brands, the world's largest restaurant company, Novak shaped the strategic direction for Taco Bell, KFC and Pizza Hut. He developed his trusted "Taking People with You" leadership program that he personally taught to thousands of managers around the world. Many of his ideas are rooted in the strategic principles of advertising and marketing, which laid the groundwork for his leadership career.
The Novak Leadership Institute (NLI) will be the world's first center for communication- and marketing-based leadership education. It combines the reputation and resources of the world's first school of journalism with David Novak's industry-tested principles of leadership. Courses and programs will integrate the School of Journalism's famous Missouri Method of learning by doing, offering students hands-on experience in leadership development, organizational communication, entrepreneurship and service.
"One of our most esteemed graduates, David Novak rose through the advertising and marketing worlds to become one of the nation's most respected business leaders," said David Kurpius, dean of the School of Journalism. "We are honored that he and his family are making this investment in our students while creating a lasting legacy at Mizzou. With their partnership, and under the guidance of Professor Margaret Duffy, I am confident the Novak Leadership Institute will quickly become a transformative and unique resource for preparing tomorrow's leaders."
Margaret Duffy, a professor of strategic communication in the School of Journalism, will serve as the inaugural executive director of the institute. Duffy served as department chair for 13 years. She is an award-winning scholar whose research focuses on organizational communication, an expertise she will bring to the Novak Leadership Institute. Her research areas also include visual communication, narrative, digital media, news and persuasion ethics.
The institute will feature undergraduate and graduate courses; a lecture series and annual symposium; thought leadership and research, study abroad opportunities; service learning partnerships; a certificate program in leadership; on-campus and online seminars and workshops; industry partnerships for apprenticeships and mentoring; and scholarships. The mission is to prepare lifelong learners who make a positive and meaningful impact in their organizations and communities.
"Today we recognize Wendy and David Novak as true Mizzou tigers," Cartwright said. "David is a marketing innovator whose love of leadership and hands-on mentorship will certainly encourage and inspire our students for decades to come. We're thrilled with his support of this strategic program and we look forward to learning from his vision."
David and Wendy Novak met as J-School students at the University of Missouri. David Novak began his career in advertising and became PepsiCo's chief marketing officer. He went on to become executive vice president of marketing and sales there before becoming its chief operating officer. He helped spin off the restaurant business, co-creating Yum! Brands. He is the founder and CEO of OGO, the first inspiration and recognition brand for the amazing people in your life. He has been recognized as "2012 CEO of the Year" by Chief Executive magazine, one of the world's "30 Best CEOs" by Barron's and one of the "100 Best-Performing CEOs in the World" by Harvard Business Review. He is the author of "Taking People with You," a number one New York Times bestseller as well as "O Great One," and "The Education of an Accidental CEO."
The Novaks' gift supports the Mizzou: Our Time to Lead comprehensive campaign. With an overall fundraising goal of $1.3 billion, the campaign will secure the University of Missouri's status among the nation's elite public universities by focusing on three priorities:
Endowment: Building MU's endowment will allow the university to strengthen its ability to attract and retain stellar students and faculty.
Signature Centers and Institutes: These centers and institutes will be the engine of research growth that will enhance MU's AAU status and add to the university's distinctiveness.
Campus Renaissance: Spurred by new and renovated facilities, Mizzou will become global leaders in education and research, which will help attract and retain students and faculty.
The University of Missouri was founded in 1839 and is the first public university west of the Mississippi, built on land acquired as part of the Louisiana Purchase. We trace our educational roots to Jeffersonian ideals. Mizzou's quality today is based on our comprehensive view of education. Missouri combines its research and land-grant efforts at one university. Mizzou professors generate new knowledge through research and share that knowledge with students and with the public through one of the nation's first extension programs.
Founded by Walter Williams in 1908, the Missouri School of Journalism is the world's first school of journalism. The School educates students for careers in journalism, advertising and other media fields by combining a strong liberal arts education with hands-on training in professional news media and strategic communication agencies.
This story was originally published on the Missouri School of Journalism website.