When David Novak, BJ '74, started out as an undergraduate at the University of Missouri, he was (by his own admission) a mediocre student. He spent more time at Harpo's than in the library. 
That all changed when he took his first advertising course at the Missouri School of Journalism. David fell in love with advertising and marketing, and after graduation, he worked in the advertising industry, eventually leading big corporate accounts such as Frito-Lay and PepsiCo. 
In advertising, the goal is to understand your client's target audience so you can help solve problems for them in a way that can improve your client's business. As an avid learner, David relished the process of understanding what people think and why. And he realized that "thinking like a marketer" could help him form deeper connections with clients and colleagues and get big things done. 
After a successful decade in advertising, David moved to the client side, where he worked for PepsiCo as executive vice president of marketing and sales. David had success in this role, but he wanted to be more than a marketing guy. He aspired to run a company one day, and to do that he would need experience in operations. 
As David took on his first operations role for Pepsi Bottling, he leaned on his experience "thinking like a marketer" to help him learn the bottling business.
Bob's story
As head of operations for Pepsi Bottling, one of David's first tasks was to visit bottling plants around the country to meet the people and learn the business. During a visit to a St. Louis plant, he asked a group of route salespeople about merchandising, the in-store promotion of products. 
He wanted to know what worked and what didn't. The salespeople were unanimous in their answer: "Bob's the expert in that area," they said, pointing to a colleague. Others said they'd learned more from Bob in two weeks than in two years on the job.
When David looked over at Bob, he was surprised to see that Bob was crying. Bob said he had worked with the company for 40 years and was scheduled to retire in two weeks. "I never knew anyone felt this way about me," he said. 
David was struck by the missed opportunity to demonstrate caring and appreciation for a key team player. And if a high performer such as Bob felt underappreciated, surely many other employees did, too. 
As a leader, David knew it was his job to understand his employees and help meet their needs. Clearly, this had not happened with Bob, and David vowed that he would make it a priority to make sure employees knew they mattered. 
Taking People with You
After rising through the ranks at PepsiCo, Pizza Hut and KFC, David got the chance he'd been working toward. In 1999, David co-founded Yum! Brands, the corporate parent of KFC, Pizza Hut, and Taco Bell. 
This is where David got to leverage his ability to think like a marketer and his dedication to employees. At a time when most corporate cultures paid lip service to recognition, David committed to creating a genuine recognition culture that would acknowledge the contribution of every person.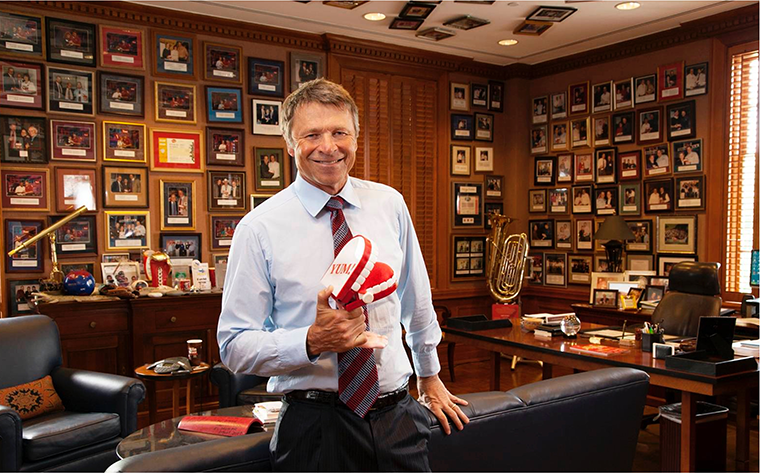 David wasn't satisfied with traditional recognition tokens such as certificates or branded pens. For KFC employees, David presented rubber chickens (and cash bonuses) to recognize employees' exceptional contributions. For Pizza Hut, it was a foam cheese head. His office walls were covered with photos of Yum! employees receiving their awards. 
This culture was one key ingredient in David's tremendous success as chairman and CEO of Yum! Brands. Under his leadership, the company's market capitalization grew eightfold, driven by employees who felt recognized for their hard work and contributions. 
After he retired from Yum! Brands in 2016, David and his wife, Wendy, gave $21.6 million to the School of Journalism to establish the Novak Leadership Institute as an investment in leadership education at Mizzou. This was his way of giving back to the university and ensuring that future leaders have access to industry-proven leadership education. 
Today, David focuses on sharing his leadership lessons through his podcast, How Leaders Lead with David Novak, and his books: "Take Charge of You" with Jason Goldsmith; the New York Times bestseller "Taking People with You"; "The Education of an Accidental CEO"; and "O Great One!: A Little Story About the Awesome Power of Recognition".